Addressing and Mitigating Vulnerability Across the Life Cycle
The Case for Investing in Early Childhood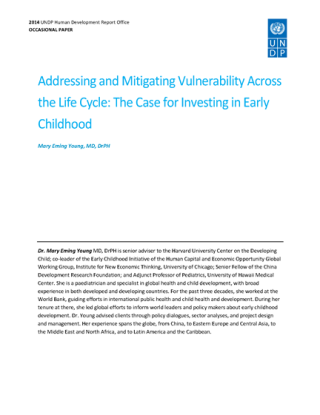 Our current understanding of the neurobiology of early childhood is that the development of the brain's architecture and function in early life affects health, learning and behaviour until we die. This means that what is done or not done in early childhood has long-term ramifications for both individuals and societies. The first few years of a child's life have a multiplier effect for society. Children who are well nurtured during this period tend to do better in school and stand a better chance of developing the skills required to compete in the global economy. Thus, investing in young children is an integral part of human and economic development.
Early human development is a powerful equalizer, as investments in early childhood yield significant long-term benefits that narrow the gap between high- and low-income families. Helping young children from disadvantaged or poor families has the highest potential returns of any educational policy. Nobel laureate James Heckman (2006) notes that investing in disadvantaged young children "…is a rare public policy initiative that promotes fairness and social justice and at the same time promotes productivity in the economy and in society at large." The World Health Organization (WHO) Commission on Social Determinants of Health (2008) states that closing the inequity gap in one generation is doable, provided we start with a more comprehensive approach to the early years in life—that is, "equity from the start."
Clearly, it is more equitable and cost effective to invest in early childhood development programmes, which can enhance children's potential, than it is to pay far more later to try to remediate what could have been prevented.