Beyond Geography
Unlocking Human Potential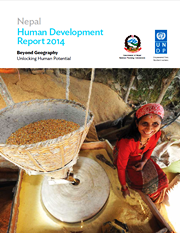 Abstract:
This Report focuses on the productive abilities of the regions, households and
individuals. The report also reinforces the fact that there are inequalities between and within regions, as well as social groups. It reveals that there is ethnic dimension to the geographic disparity. It also points out human development does not only depend upon access to facilities and productive abilities but also on
the opportunities available.
The report rightly recommends strengthening inclusive growth and looking into innovation in development models for problems that defy general economics. Inclusive Growth and innovation in development models are important at this time, as Nepal tries to move out of a long drawn out political transition and its commitment to graduating from Least Developed Country to a Developing Country status by 2022.