Human Development Report on Governance Zimbabwe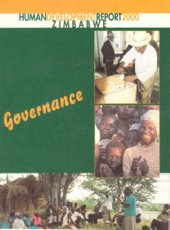 Abstract:
The report analyses Governance issues in Zimbabwe from the perspectives of various researchers, who
draw their information from credible and accepted sources. It emphasises the link between
Governance and the promotion and sustenance of human development. One of the important
observations made in the report is the role of the State in creating an enabling environment for
development to take place, with the participation of all its citizens. The report also seeks to analyse
governance issues from a gender perspective as well as incorporating the views of the youth. In the
indices section, the report provides updated data on levels of poverty at the national, provincial and
district level.