Russia in 2015 -- Development Goals and Policy Priorities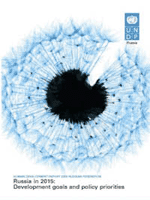 Abstract:
The report presents a conceptual continuation of several previous national reports. It is prepared by a group of independent Russian experts with participation of the UN agencies and support of the Centre of Strategic Research and a number of government institutions.
The Report is special in a number of ways. First, it discusses the strategic outlook for the country's development an ambitious task in itself. Second, the report tries for the first time to relate the human development dimension to the Government's development priorities through the lens of the customized Millennium Development Goals (MDGs).
As noted in the address to readers of the Report by the Deputy Chairman of the Government of the Russian Federation A.D. Zhukov, As many of the MDGs are intended primarily for developing countries, the authors of the Russian Report had to answer difficult questions: How could these MDGs be interpreted for our country What are the proper targets for their achievement. What could constitute indicators of relevant progress.
The authors of the Report tried to answer these questions by analyzing the aspects of the standards of living and the state policy that are closely connected to the MDGs.
Principal Contributors:
Prof. Sergei N. Bobylev - Chief Author (Department of Economics at Moscow State University)
Anastassia L. Alexandrova - Chief Author (Social Policy Sector Director, Institute for Urban Economics)