SUBJECTIVE WELLBEING: THE CHALLENGES OF RETHINKING DEVELOPMENT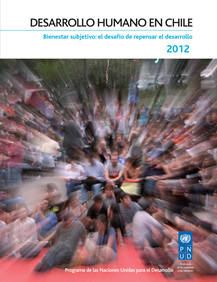 Abstract:
2016 Awards for Excellence in Human Developing Reporting Awardee
This NHDR uses measures of subjective wellbeing (in particular 'happiness') to better understand "what ultimately matters" when striving for development in Chile. The report, which was extensively disseminated across the country, framed this discussion within Chilean society and it still draws attention 4 years after its publication. The findings of this report are being used by Ministry of Education in the discussion of a new national school curriculum and the Ministry of Social Development has measured life satisfaction in line with its recommendations. Its practical application is also impressive: not only is it being used in the national school curriculum, and the national statistical office is measuring life satisfaction in line with the NHDR´s recommendations.
Abstract
Today, there is a public conversation about development that is moving forward around the globe. Different actors are increasingly arguing that it is necessary to pay attention to other dimensions besides economic growth (or the traditional way of conceiving it), which implies fine–tuning goals, normative frameworks and even statistical measurements; it forces public actions to focus on "what ultimately matters" when striving for development.
In this context, the possibility of adding people's happiness as one more development goal is ever more present in international public discussions. Countries and leaders have begun to value, as a politically relevant objective, the considerations associated to the assessment that people make about their lives. Although it is incipient, this dialogue has also started within Chilean society.