Water Resources and Sustainable Human Development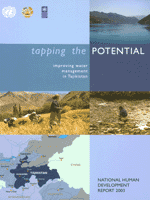 Abstract:
The 2003 Tajikistan National Human Development Report on Improving Water Governance was launched at the International Fresh Water Forum in Dushanbe on August 30, where over 400 participants from 45 countries had gathered.
The NHDR 2003 seeks to promote dialogue amongst a broad range of actors involved in water management with the goal of enhancing sustainable human development for the people of Tajikistan. Each report contains a Human Development Index, a means of measuring the country's progress through a lens of economic and social indicators. The principal objective of the report is to strengthen the capacity of the Government to mainstream sustainable human development concerns over a wide variety of topics, from the economy to the environment, into tangible policy and programmes. The NHDRs are aimed at increasing public awareness of the human development situation in the country and promoting open dialogues on crucial development issues.
Principal Contributors:
William Stephens - Co-author and Editor
Munim Abdusamatov - Contributor (Ministry of Environment)
Alfia Ahrorova - Contributor (Tajik Technical University)
Inom Asrorov - Contributor (Institute of Economics, Academy of Sciences)
Munzifa Babadjanova - Contributor (UNESCO National Commission)