Human Development Impacts of Migration
South Africa Case Study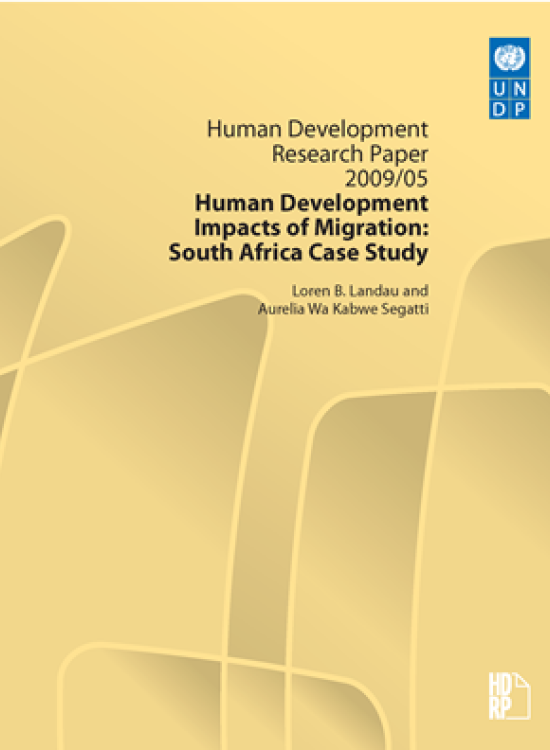 Download Report by Language
Citation
Landau, Loren B., Segatti, Aurelia Wa Kabwe. 2009. Human Development Impacts of Migration: South Africa Case Study. New York.
Human Development Impacts of Migration
South Africa Case Study
Posted on: January 01, 2009
Controls on human mobility and efforts to undermine them continue to shape South Africa's politics, economy, and society. Despite the need for improved policy responses to human mobility, reform is hindered by lack of capacity, misinformation, and anti-migrant sentiments within and outside of government. This report outlines these trends and tensions by providing a broad overview of the limited demographic and socio-economic data available on migration to and within South Africa. Doing so highlights the spatialised aspects of human mobility, trends centred on and around the country's towns and cities. It also finds significant development potential in international migrants' skills and entrepreneurialism. By enhancing remittances and trade, non-nationals may also expand markets for South African products and services. Despite these potential benefits, there are severe obstacles to immigration reform. These include a renewed South African populism; the influence of a strong anti-trafficking lobby; a European Union (EU) agenda promoting stricter border controls; poor implementation capacity; and endemic corruption among police and immigration officials. There are different, but equally significant problems in reforming frameworks governing domestic mobility including perceptions that in-migration is an inherent drain on municipal budgets. Recognising these limitations, the report concludes with three recommendations. (1) A conceptual reconsideration of the divisions between documented and undocumented migrants; between voluntary and forced migrants; and between international and domestic migration. (2) An analytical respatialisation in future planning and management scenarios involving regional and local bodies in evaluating, designing and implementing policy. (3) To situate migration and its management within global debates over governance and development and for 'migration mainstreaming' into all aspects of governance. The success of any of these initiatives will require better data, the skills to analyse that data, and the integration of data into planning processes.