Human Development Report 2016
Human Development for Everyone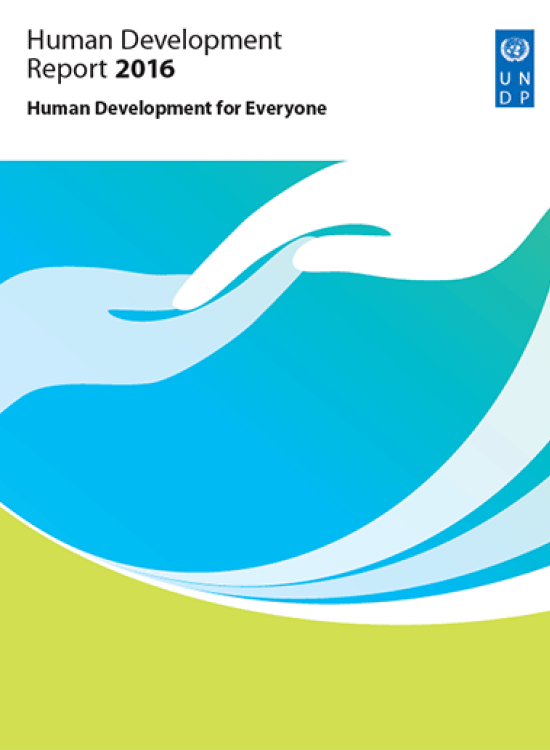 Explore Digital Report
Download Report by Language
Citation
UNDP (United Nations Development Programme). 2016. Human Development Report 2016: Human Development for Everyone. New York.
Human Development Report 2016
Human Development for Everyone
Posted on: January 01, 2016
Universalism is at the core of the human development approach. Human freedoms must be enlarged for all human beings—not a few, not the most, but all, in every corner of the world—to be able to realize their full potential now and in the future. The same spirit is shared by the 2030 Agenda and the Sustainable Development Goals—leaving no one out. So human development must be ensured for everyone. However, human development is about more than satisfying basic needs. It encompasses voice and autonomy that matter in a dynamic world and through varying life conditions. Human development is about agency, self-determination and the freedom to make choices and shape outcomes. Human development for everyone requires refocusing on some aspects of the human development approach— collective capabilities, not only individual capabilities; voice and autonomy, not only well-being; and inclusion, not only diversity. It also needs focusing on assessment perspectives going beyond averages and quantitative achievements only. Caring for those left out requires a four pronged strategy at the national level: reaching those left out using universal policies, pursuing measures for groups with special needs, making human development resilient and empowering those left out. National policies must be complemented with actions at the global level by addressing issues related to the mandate, governance structures and work of global institutions. We have every reason to hope that things can be changed and transformations can be made. What seem to be challenges today can be overcome tomorrow. The world has fewer than 15 years to achieve its inspirational agenda of leaving no one out. With our hearts, heads and hands together, we shall strive for peace and prosperity, partner with each other and seek a balance between the people and the planet. Once those objectives are achieved, we will reach the end of the road together. And when we look back, we will see that no one has been left out.