Human Development Report for Latin America and the Carribbean 2016
Progreso multidimensional: bienestar más allá del ingreso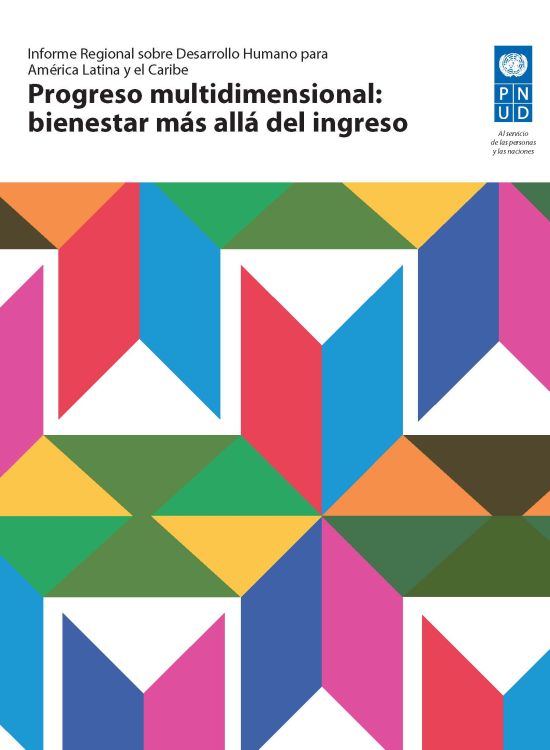 Explore Digital Report
Download Report by Language
Citation
George Gray Molina - Principle Author,, María José Abud - Author,, Natalie Gómez Arteaga - Author, , Alfredo González - Author, , Eduardo Ortiz-Juárez - Author,, Javier Sagredo - Author,, Jimmy Vásquez - Author. 2016. Human Development Report for Latin America and the Carribbean 2016: Progreso multidimensional: bienestar más allá del ingreso. New York.
Human Development Report for Latin America and the Carribbean 2016
Progreso multidimensional: bienestar más allá del ingreso
Posted on: January 01, 2016
With the recent economic downturn-and its impact in the region- as well as partially improved social protection systems in the region, UNDP estimates that about 1.5 million more men and women will back-slide into poverty by the end of this year. They will join the 1.7 million people in the region who already fell back into poverty in 2014 —for the the first time in a decade— according to UNDP estimates. This new upcoming report shows that what determines people to move out of poverty (good quality education and employment) is different from what "slides them back into poverty" (existence of social safety nets and household assets). UNDP is focusing on how to build "resilience", or the ability to absorb external shocks—financial crisis or natural disasters—without major social and economic setbacks. This is particularly important for the region's 200 million vulnerable people: those who are neither "poor", living below a US$4/day poverty line, and have been unable to move to middle class status (over US$10 /day). Initial estimations put 30 million people in risk of sliding into poverty or vulnerability In this context the Regional Bureau for Latin America and the Caribbean at UNDP is preparing its 2016 Regional Human Development Report, which will also include policy recommendations that reflect the transition from the Millennium Development Goals to the new global development agenda, with the Sustainable Development Goals, which was approved in September 2015 during the UN General Assembly session in New York. This virtual space has the aspiration to become a discussion platform where written and audiovisual materials prepared by UNDP and citizensand citizens from the region can be shared, commented, discussed and serve as elements for learning and exchange. This third Human Development Report for Latin America and the Caribbean is an editorially independent publication commissioned by UNDP. This report is being prepared with financial support from the Spanish Agency for International Cooperation for Development (AECID, in Spanish). Over 20 regional authorities take part in the report's Advisory Board including Ministers, Senators, academics and the current leaders of the region's major multilateral organizations.