Iraq Human Development Report 2014
Iraqi Youth Challenges and Opportunities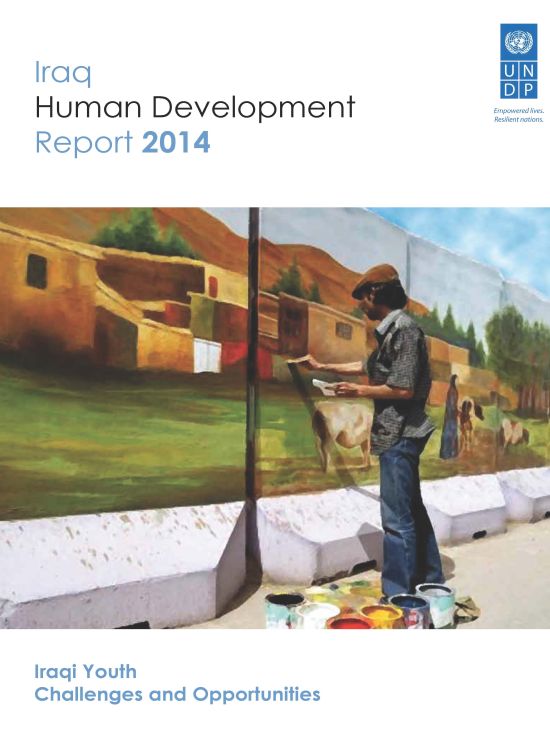 Explore Digital Report
Download Report by Language
Citation
UNDP (United Nations Development Programme). 2014. Iraq Human Development Report 2014: Iraqi Youth Challenges and Opportunities. New York.
Iraq Human Development Report 2014
Iraqi Youth Challenges and Opportunities
Posted on: January 01, 2014
Issued in 2008, the second National Human Development Report (NHDR) succeeded in realizing one of the most important goals of Human Development Reports: raising a debate on development policies among government officials, academics, intellectuals, media professionals, and civil society organizations. Today, with the increasing need to promote the government's role as a caretaker of human development, this report focuses on Iraqi youth. In a country where young people constitute a high percentage of the population, their success or failure will have a clear impact on society en masse. The number of Iraq's children and youth increasing at an unprecedented rate. In 2010, Iraq had 5.1 million children and 6 million young people. These numbers are expected to run as high as 6.7 million and 9.6 million respectively in 2025, and 8.9 million and 14.9 million respectively in 2050. This report is important given the data of the demographic window – that period of time in a nation's demographic transition when the proportion of the working age population is particularly prominent for a decade or more – which has become of interest to states. It is an opportunity to realize development in Iraq, though this is conditioned on the positive response of the country's socio-economic policies. Advancement is not guaranteed, as the demographic window can be transformed into an element of social relapse, short-lived economic growth, increased unemployment, and a disintegrated labor market, which can trigger a raft of problems if proper development policies and strategies are not in place. National awareness of youth issues is on the rise at various policy- and decision- making levels. There is also general awareness of the important role of this social group. Despite the growing interest in youth issues after 2003, however, the projects designed to empower and integrate the youth and engage them in development priorities, plans, and strategies have been impeded by violence and instability. Through factual analysis and the integration of the vision and priorities of Iraqi youth, this report develops an integrated structure that combines youth issues with various dimensions of the development process. This will help to develop policies that address the role of the youth in the current and future human development process. And what makes the recommendations of this report even more important is that many of them reflect a reality that our youth teams and field work groups have explored through interviewing young Iraqis of different genders, ethnicities, education levels, and social and geographical backgrounds.