Peace and Conflict Prevention: Human Security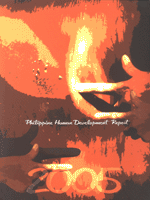 Abstract:
Based on the concept of human security, the report assesses the state of human security, using human development indicators additional indicators of human security. It identifies the structural causes of the conflict in Southern Philippines and the areas of particular vulnerability to violent conflicts. The report will also provide an analysis of the strengths and weaknesses of key Philippine institutions in terms of their roles and capacities in terms of rights protection, peace building, and conflict prevention.
The report is intended to draw attention to the human development and economic costs of the unending armed conflict in Southern Philippines the urgency of taking serious measures to put an end to it. The report calls for political reforms to increase stability in governance and open discussions on the role of the military in the recent political transition and its implications for political stability.
Principal Contributors:
De Dios - Author
Soliman Santos, Jr. - Author
Sharon Faye Piza - Author (Asia Pacific Policy Center)