Famine in Malawi: Causes and Consequences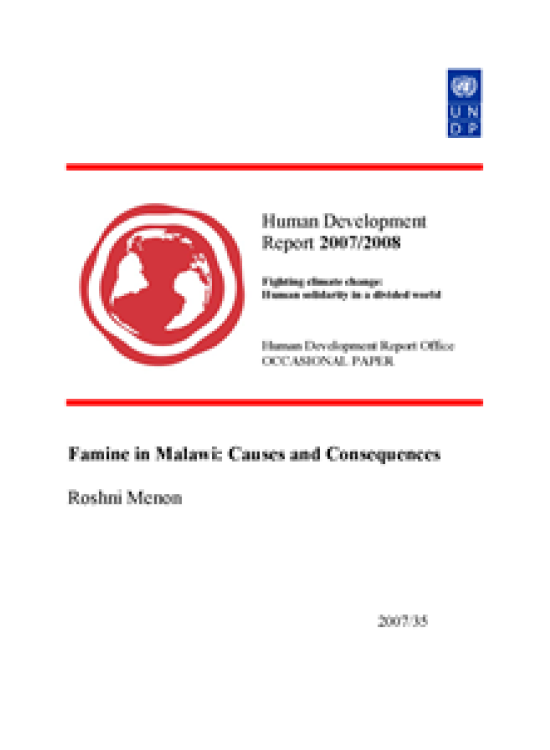 Download Report by Language
Citation
Menon, Roshni. 2008. Famine in Malawi: Causes and Consequences. New York.
Famine in Malawi: Causes and Consequences
Posted on: January 01, 2008
Reports of a devastating famine in Malawi first surfaced as rumors whispered in rural areas in the country around October 2001. However, little was done by way of action. Government officials in Lilongwe and members of the donor community were hard pressed to believe or act on the problem even as civil society groups such as the Malawi Economic Justice Network (MEJN) and the Catholic Commission for Justice and Peace began to present evidence supporting the reports coming from the countryside. Consequently, by the time the crisis in rural Malawi was finally publicized in February 2002, famine and severe food insecurity were rampant: from January to April 2002, between 500 and 1,000 people died of hunger or hunger-related diseases in the southern and central regions of the country. These deaths contributed to making the famine one of the worst in living memory—more devastating than the drought of 1991/92 and even worse than the Nyasaland famine of 1949. Moreover in 2005, Malawi had another difficult year with more than 4.7 million out of a population of 12 million experiencing food shortages (Phiri 2005). This marked the sixth year in a row that the country had experienced some form of food shortage, with some commentators suggesting that this recent event may be "Malawi's worst food crisis for a decade" (SOS News 2005).