Human Development Report 2006
Beyond scarcity: Power, poverty and the global water crisis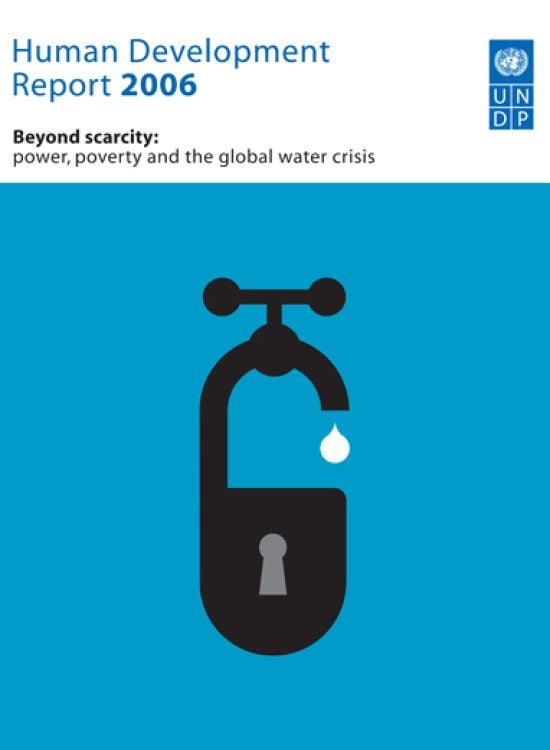 Download Report by Language
Citation
UNDP (United Nations Development Programme). 2006. Human Development Report 2006: Beyond scarcity: Power, poverty and the global water crisis. New York.
Human Development Report 2006
Beyond scarcity: Power, poverty and the global water crisis
Posted on: January 01, 2006
Throughout history water has confronted humanity with some of its greatest challenges. Water is a source of life and a natural resource that sustains our environments and supports livelihoods – but it is also a source of risk and vulnerability. In the early 21st Century, prospects for human development are threatened by a deepening global water crisis. Debunking the myth that the crisis is the result of scarcity, this report argues poverty, power and inequality are at the heart of the problem.
In a world of unprecedented wealth, almost 2 million children die each year for want of a glass of clean water and adequate sanitation. Millions of women and young girls are forced to spend hours collecting and carrying water, restricting their opportunities and their choices. And water-borne infectious diseases are holding back poverty reduction and economic growth in some of the world's poorest countries.
The Human Development Report continues to frame debates on some of the most pressing challenges facing humanity. Human Development Report 2006:
Investigates the underlying causes and consequences of a crisis that leaves 1.2 billion people without access to safe water and 2.6 billion without access to sanitation
Argues for a concerted drive to achieve water and sanitation for all through national strategies and a global plan of action
Examines the social and economic forces that are driving water shortages and marginalizing the poor in agriculture
Looks at the scope for international cooperation to resolve cross-border tensions in water management
Includes special contributions from Gordon Brown and Ngozi Okonjo-Iweala, President Lula, President Carter, and the former UN Secretary General, Kofi Annan.